How to manage germplasm resources efficiently ?
3min
Seed companies need to manage seed resources over years, sometimes decades, with accurate traceability of pedigree and quantitative / qualitative traits and of the environment of the experiments where these observations have been done. These life material must also be replicated and life controlled regularly, on a periodicity relative to species and genetic families.
The physical storage of these resources is complex and takes place in the company owned seed bank. In addition to this, information systems today enable to manage numerical records of the physical seeds.
Codification / Unicity
Mainly for traceability matters, it is a key point for breeders to have a unique name for any genetic resource which is used during a breeding program. The codification will often be a concatenation of short codes which are properties of the genotype material: species, material type, generation, source experiment…
Traits and meta data
A germplasm management system enables to store different types of data which are crucial to define the nature of the genotype material. It can be phenotypic data (traits, yield, precocity…), genotypic data (species, pedigree, parentage, material type, generation…), or miscellaneous data like attached files or pictures. Different views can be designed to display specific results related to a specific topic only.
Traceability of seed use
Any removal, update, or addition of genotype material can be traced. Each information system will have different levels of traceability as the rules to generate a record in the backup log is very configurable: a balance between data loss avoidance and reasonable amounts of data. Also, different user profiles can be created to ensure data confidentiality: read access, no access, read & write access…
The genotype resources aim to be used into "experiments", for new material creation and / or evaluation to collect phenotypic or other type of data. A germplasm management system can record the source experiment and trace where each lot has been used and planted. This information is relevant for the breeders as the performance of genotype material is very correlated with the type of experiment it was harvested from, or the one it will be used into. An efficient germplasm management system shall give an easy access to information of a genotype combined with all the observations (and the conditions) done across years and locations.
Pedigree
Numerical identifiers have made possible the accurate parentage traceability between each record of a germplasm management system. This is the necessary basis for powerful interactive graphical representations which enable to display together genotype materials with very distant genealogical relationships.
Seed quantities/weight/thousand Kernel weight
In a germplasm management system, automatic computation can be done for seed bags weight, quantities and thousand Kernel weight. In fact, at some stages of a breeding program, the amount of seeds for some genetic resources might be quite limited. The germplasm management system can offer some features to have an efficient management of the available seeds.
Seed stock inventory
Genotype inventory is the process where an operator will make a verification to match information system database records and existing genotype materials. Labels with bar codes can be printed and scanned to process the inventory. A similar process can be used to verify the accurate occurrence and sorting of individual bags of seed to prepare the sowing.
Seed conservation growth trials and regeneration
Conservation of germplasm requires to stock seeds, but seed germination rate decreases over time, so it's necessary to control the quality of the stock, and proceed to regeneration of a material's stock when it does not pass the tests. Moreover, seed conservation is so crucial for breeding departments that they track all operations on the stock, and follow strict guidelines to ensure the quality of seeds stored and regenerate damaged material.
"Genebanks must ensure that their germplasm accessions are kept viable and at high quality for as long as possible. Even under the highest standards of management, however, germplasm deteriorates with time and needs to be regenerated." Ehsan Dulloo & pal. paper on Introduction for the regeneration guidelines of crops. ²
In practice, it consists in organizing systematic control experiments on the stock of seeds, and planting back low-grade material to collect new seeds. This last step is called regeneration, it requires a high level of precision and evaluation to make sure the material is not corrupted by cross-pollination, and to check the quality of the new seeds.
RnDExp® breeding software includes all the tools to manage and control this activity. Gene banks and seed stocks of breeding organizations can setup their own processes to plan, handle and control these activities.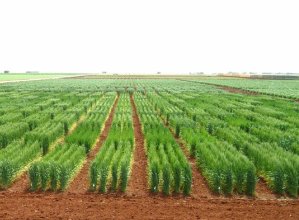 Regeneration field of wheat (photo: ICARDA) ¹
RnDExperience®
In some ways, the core of the RnDExp software is its genotype "stock" (the name of the germplasm table in the software). Standard RnDExp experiments have a direct relationship with it, in a way that every genotype material which is used as a modality in an experiment takes its source in the RnDExp "stock". Every dataflow of the "stock" individuals is traced in a dedicated table, so that the breeder can have a virtual overview of each germplasm he is using in his program. Also, there are several features in the software which are genotype or genealogy based, and Doriane strongly heads its innovations on these.
Further resources and readings:
Genesis, Plant breeding and research community's established tool for exploring genetic diversity worldwide: "Genesys is a free online portal which allows people to explore the world's collected crop diversity through a single website. With just a few clicks, users can find information on seeds and other types of crop samples coming from, and conserved in, nearly every country in the world. The site allows hundreds of genebanks to share their data, according to agreed standards, in a single portal."
https://www.genesys-pgr.org/
Sources : 
1 https://cropgenebank.sgrp.cgiar.org/index.php/crops-mainmenu-367/wheat-mainmenu-362/regeneration-mainmenu-383
2 https://cropgenebank.sgrp.cgiar.org/index.php/regeneration-guidelines-of-crops